At RS Ranch, we have a very special relationship with our herd of 30+ Foxtrotters, Tennessee Walkers, Quarter Horses and Draft Horses. We have bred, raised and trained them to provide guests with the finest riding opportunities.
Your mount will be selected with your own riding abilities in mind, rides are adjusted to each individual's riding abilities for the riders, as well as the horses!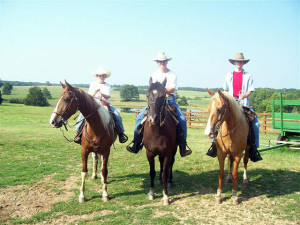 "Fox Trotting at its finest" is what we like to call the gaited rides we offer on our Missouri Foxtrotting horses. They are smooth, quick and sure-footed to handle the hilly, rocky outlaw trails in style. In addition, our "Big Girls", Percheron draft horses, are used in day to day chores, as well as pulling the hayride wagon and sleighs.
The chuck wagon still stands today as a sentimental symbol of the old west legacy of the great cattle drives, when vast herds of Longhorns were driven north to Kansas and Missouri.
We can customize your hayride outing and complement it with a chuck wagon evening, from simple cowboy fare to Dutch oven cooking.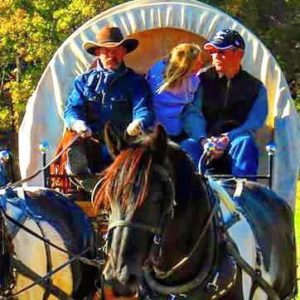 A wide variety of services are available in our area ….so if you'd like to customize your hayride or chuck wagon cookout with a trail ride, float trip, cave tour, or a tour of a local winery… we'll be happy to help you make arrangements. And remember, "Once you know where you're goin' just climb in the saddle and stay on the trail 'til you get there."
Deluxe trail riding ranch vacation getaways, includes log cabin-bunkhouse living quarters with kitchen and bath. Choose from trail riding, fishing, hiking, an evening campfire, other numerous activities, or just plain country ranch style relaxing.
Trail rides include cowboy saddlebag lunches in scenic areas along the trail or river beds. A horse-drawn Hayride and chuck wagon dinner will be provided one evening.
Small groups or only couples give us the opportunity for individual attention, on willing responsive, well trained, raised on the ranch horses. Our goal is the more you know about your horse and equipment the more you will enjoy the vacation.
Relax and experience the pleasures of country living and ride over endless trails. Your starting point is a small family ranch in East Central Missouri. The surrounding countryside is home to wild turkey, white-tailed deer and many other native Missouri animals.
Your ride begins at your cabin door!  Explore rivers, caves, forests and ranch lands.
We also offer Hayrides, Sleighrides and Chuck Wagon Cookouts
Be sure to call and arrange a reservation date BEFORE making payment
ALL RIDERS MUST COMPLETE THE RESERVATION AND WAIVER FORM