We are a 500 acre working family ranch, surrounded by rivers, trails and nature.
Located just 1 hour from St. Louis's Lambert International Airport, you will drive southwest thru beautiful country with rolling hills and interesting stops that might include wineries, cave tours, or one of many antique shops.
The countryside is rich in natural flora and fauna, and our Ranch is rich in cowboy traditions, horsemanship and horse husbandry. Take a true horseback trail rides vacation in the Missouri Ozarks. You'll enjoy a wealth of cowboy activities to choose from and spend your time doing as much or as little as you prefer.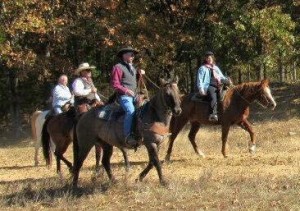 Upon your arrival, we will help you design a cowboy getaway that is just right for you. You have many trail riding options, plus roping lessons, horse-drawn hayrides or sleigh rides in the winter.
If you want to learn some horsemanship, just watch or help with some of the day to day horse work that it takes to keep a cowboy ranch going. From shoeing, to harnessing a draft team or maybe training a young colt, there's always lots to do. Spend your time here as leisurely or action packed as you desire. It's your call, just sit and relax in a rocking chair on the big front porch, or go fishing, hiking or bird watching.
Beautiful landscapes and scenery and other photo-ops abound here, so bring your camera and go hunting! Nearby, the cool and refreshing waters of the Upper Meramec River provide swimming and serenity amongst scenic backgrounds of gravel bars, sand bars and towering bluffs. Local float businesses offer canoe, raft, kayak and inner tube float trips for you to explore our Ozark Streams.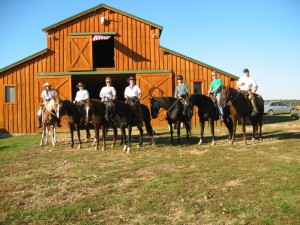 So, what do you want to ride? Our sturdy Quarter Horses are well trained & socialized, good mannered and ready to take you wherever you want to go.
If you prefer a gaited ride, our Missouri Foxtrotters are smooth, quick and sure-footed to handle the hilly rocky outlaw trails in style. In addition, our "Big Girls", Percheron draft horses, are used in day to day chores as well as pulling the hayride wagon and sleigh rides.
WE HAVE HAD THE PLEASURE OF BEING FEATURED IN:
Travel America Magazine  2005 - "Foxtrot Travels Across Missouri"
Horse Illustrated November 2009 - "Modern Heavyweights"
Trail Rider Magazine 2009 - "8 Gaited Getaways"
Horse & Rider 2011 - "50 Great Escapes Ranch Vacations"
With select ranch getaways or vacations, you'll find that as the sun starts to set in the western sky and the horses are turned out to night pastures, friends and neighbors gather around the chuck wagon and cowboy campfire for the evening.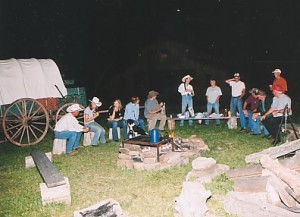 The smells of campfires and cowboy cooking fill the air as you listen to local Bluegrass musicians playing old west songs. Bring your guitar, banjo, or fiddle and join in. Cowboy pleasures are simple, down to earth, rooted in the land and yet deeply satisfying.
After a hard day on the trail or working the ranch, the evening campfire gathering is the perfect way to unwind as true cowboys always have, amidst the sights, sounds and smells of nature, the land and a good cup of cowboy coffee.
Stay in a deluxe Cabin while you explore and enjoy some of the most beautiful countryside and rivers of the Missouri Ozarks - on Horseback.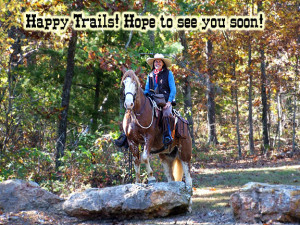 "Happy Trails" is a cowboy's wish for good fortune or success on present and future trails, and an expression of comradery. Join us, experience a glimpse of the lifestyle, traditions and skills that brought about the taming of the West and settlement of the wilderness.
"Happy Trails" are here for you at RS Ranch so don't waste time looking elsewhere, make the call and reservation now.
We'll be ready and waiting for your arrival!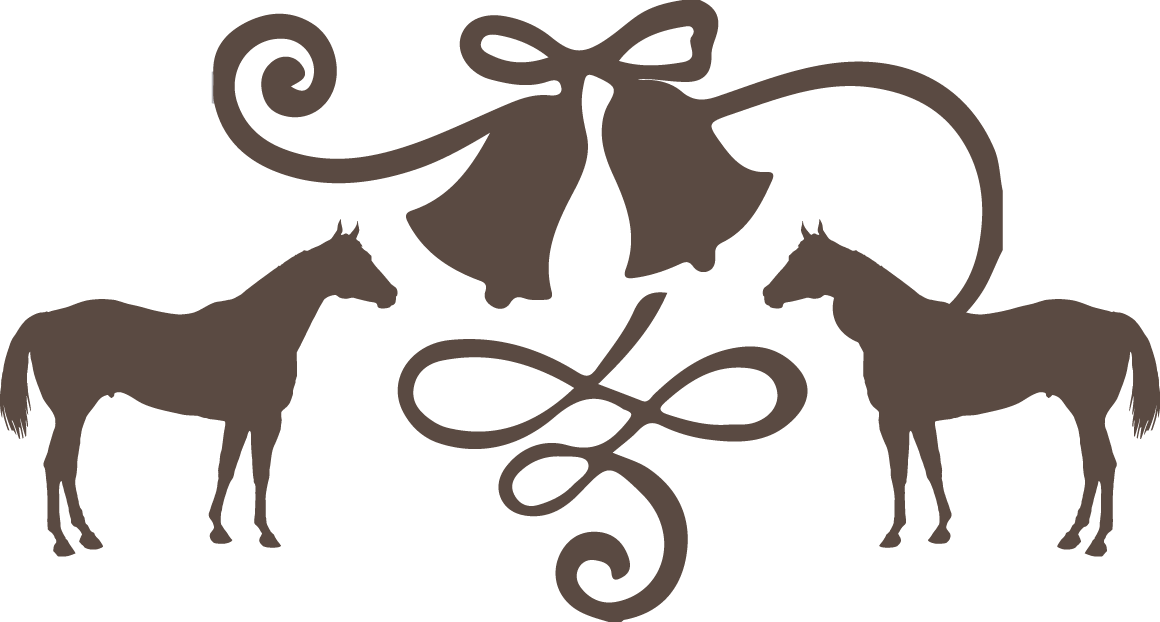 Authentic
Cowboy Weddings!
Call for details
Ride & River Off-Ranch Adventure Ride - Our Specialty!
You and your horse will be trailered to the trailhead for this incomparable riding expedition. A full day spent exploring from horseback then by water.
During hot summer months, June/July/August, may we suggest using one day of your vacation to take a morning half-day ride, lunch on a gravel bar, jump off your horse and into a canoe, raft, or kayak to float down the spring-fed Meramec River to finish off the day refreshed. Stop on your way back to the ranch at a local pub & grill for dinner!
Additional fee applies - Go to Blue Springs Ranch Campground and Canoe Rental for rates.

VISIT OUR FRIENDS AND SPONSORS